Password management is automatic
True Key auto-saves and enters your passwords, so you don't have to.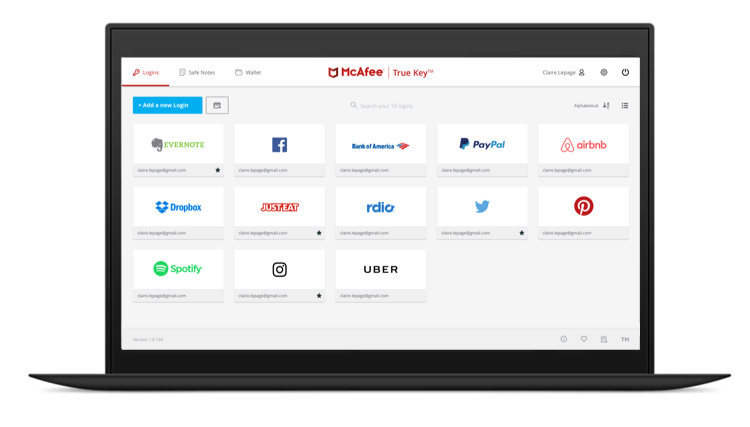 Security
How encryption keeps you safe
The True Key app protects your passwords by scrambling them with AES-256, one of the strongest encryption algorithms available. Only you can decrypt and access your information with the factors you choose.
Simple and secure
Sign-in is simple; Just type in your master password on the device you trust. When not on a Trusted Device (a friend's phone, hotel computer), you'll be verified by a second authentication factor for safety.
Multi-factor authentication, always
Multi-factor authentication, or MFA, is standard with the True Key app. You'll always be verified by at least two factors before being signed in. Customize your profile by adding more factors — the more you add, the safer your profile becomes.
Your privacy is important
McAfee respects your privacy. Your passwords belong only to you — accessible only by you. We never share or sell your data.
Features
Ways you can sign in

PC

Mac

iOS

Android

Master Password

The only password you'll need to remember and you're the only one who has it. In addition to using this as one of your choices for factors to log in, you will use it to log in the first time you add the True Key app to a new device.

1

1

1

1

2nd Device

Use a mobile phone or tablet as an additional factor. When you sign in on your PC or Mac, the True Key app sends a notification to your iOS or Android 2nd device - just swipe the screen on your 2nd device to verify it's you.

0

0

1

1

Fingerprint

Use your device's fingerprint reader to sign in to the True Key app with a touch.

0

0

1

1

Email

Verify it's you with the click of a link. The True Key app will send an email to your inbox - just click on the link to verify it's you, as an additional factor.

1

1

1

1

Trusted Device

The factor we always use, and you don't even have to think about it. The True Key app recognizes which devices are yours - and notifies you if a sign in is attempted on a device you haven't trusted.

1

1

1

1

Windows Hello™

Log in using Windows Hello. Exclusive to the True Key extension for Microsoft Edge.

1

0

0

0
Ways you can manage your info

PC

Mac

iOS

Android

Launchpad

The websites you use, organized and at your fingertips from the moment you sign in to your profile.

1

1

1

1

Password Manager

Enter your login details once, and True Key does the rest. The app fills in your usernames and passwords and logs you in. It's that simple, and that fast. So you can get to the places you want to go.

1

1

1

1

Digital Wallet

Store credit cards, IDs, passport numbers and other sensitive info - the personal info you sometimes need, secured and accessible to only you from any of your devices.

1

1

1

1

Password Generator

Create long, strong passwords to protect each of your accounts. Your True Key app will remember them, so you don't have to.

1

1

1

1
Additional features

PC

Mac

iOS

Android

Local Data Encryption

All of your information is stored locally on your device, and encrypted with best in class encryption when synced to your other devices.

1

1

1

1

Cross Device Sync

Use your True Key profile on all your devices - so you have fast access to the info you need on your computer, phone and tablets.

1

1

1

1
Browsers*

PC

Mac

iOS

Android

Chrome

translation missing: en.home.index.features.chrome.body

1

1

1

1

Firefox

translation missing: en.home.index.features.firefox.body

1

1

1

1

Microsoft Edge

(extension only)

translation missing: en.home.index.features.edge.body

1

1

1

1

Safari

translation missing: en.home.index.features.safari.body

0

0

1

0
* Supports latest versions